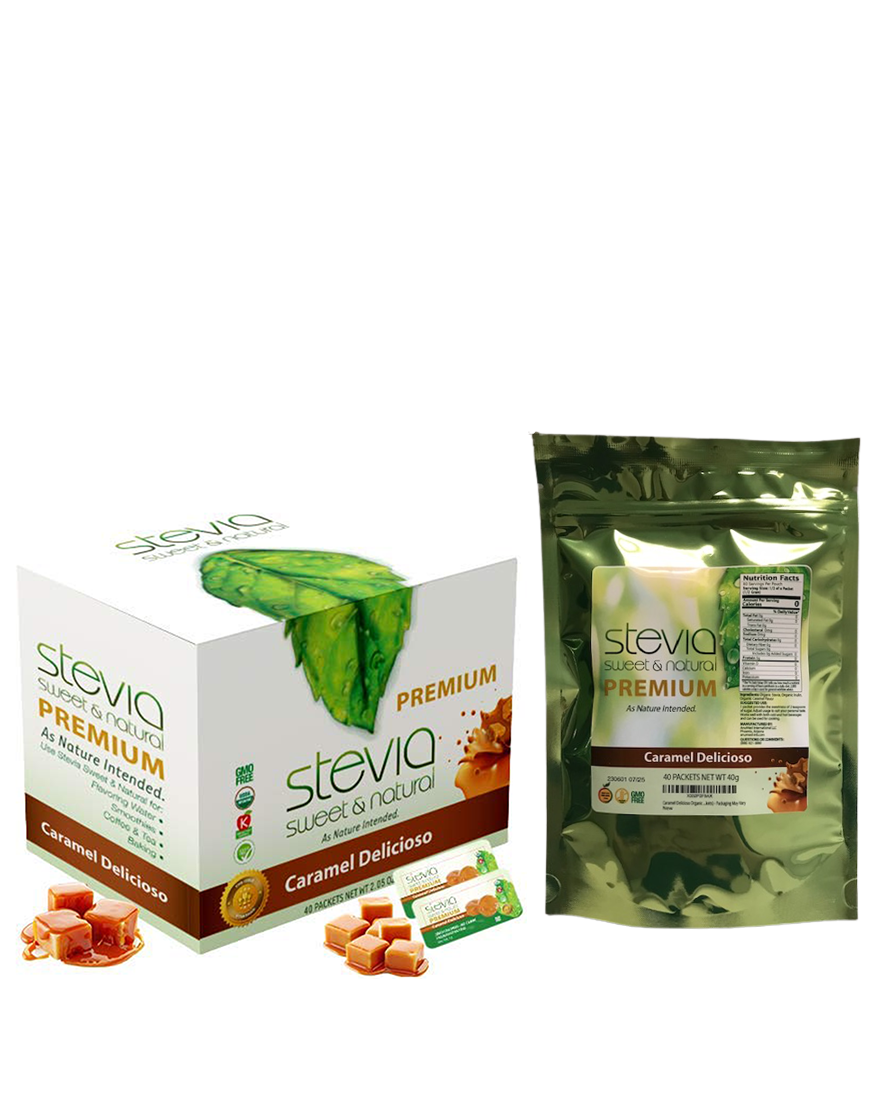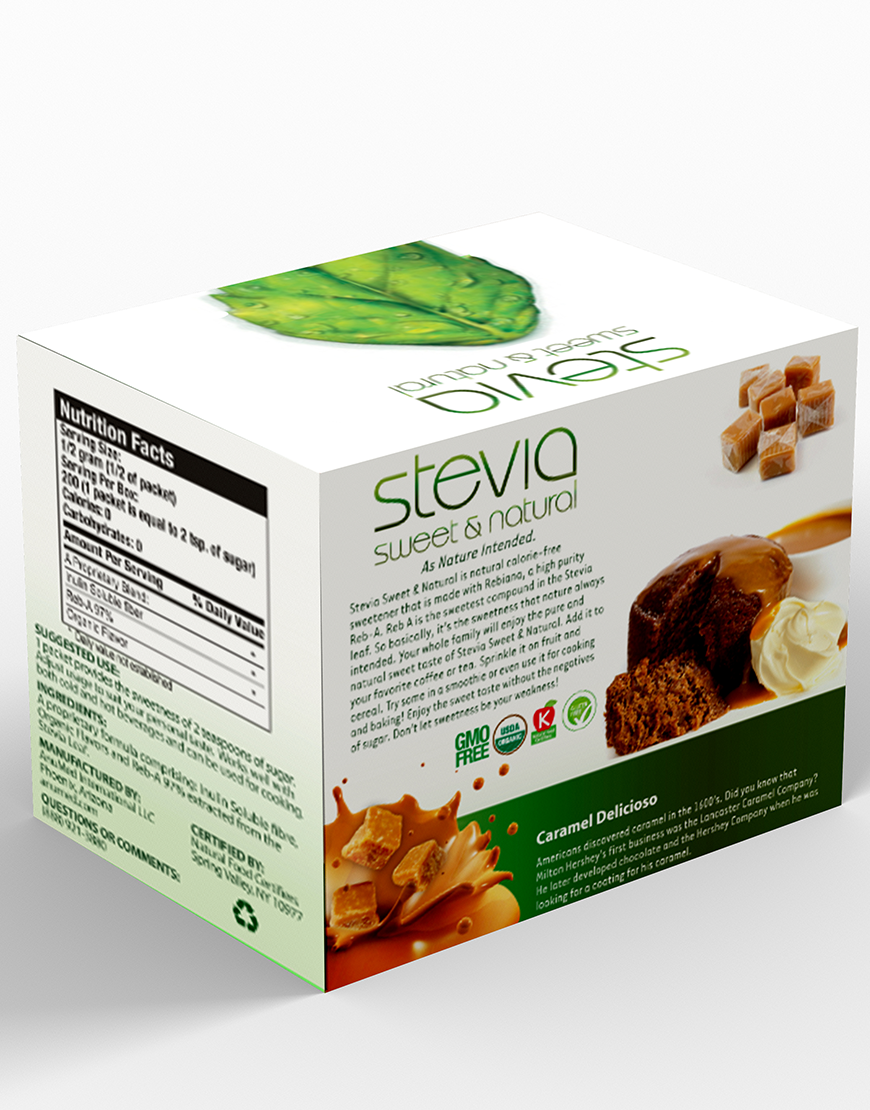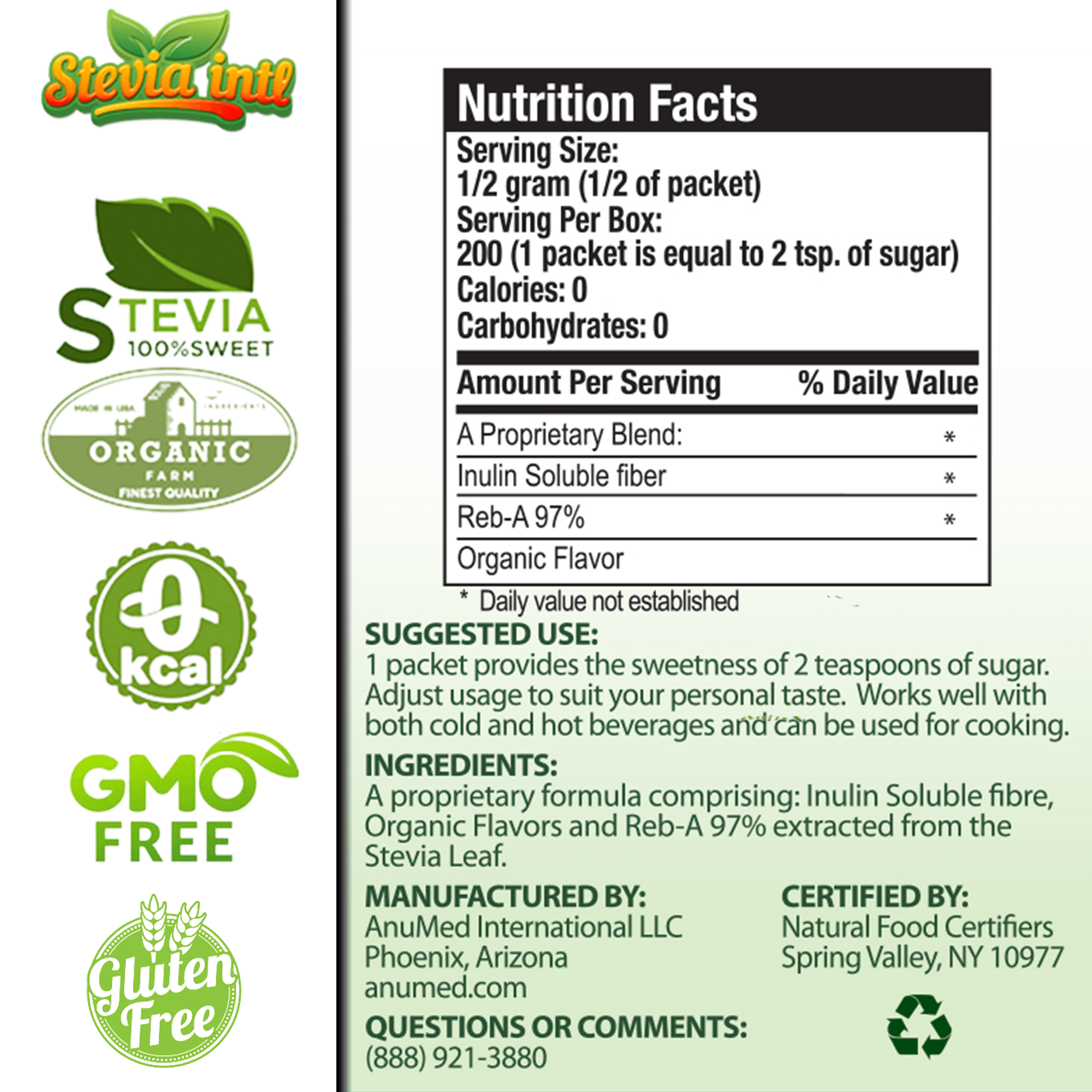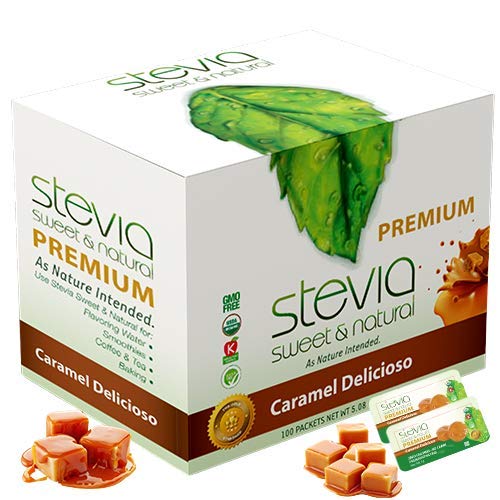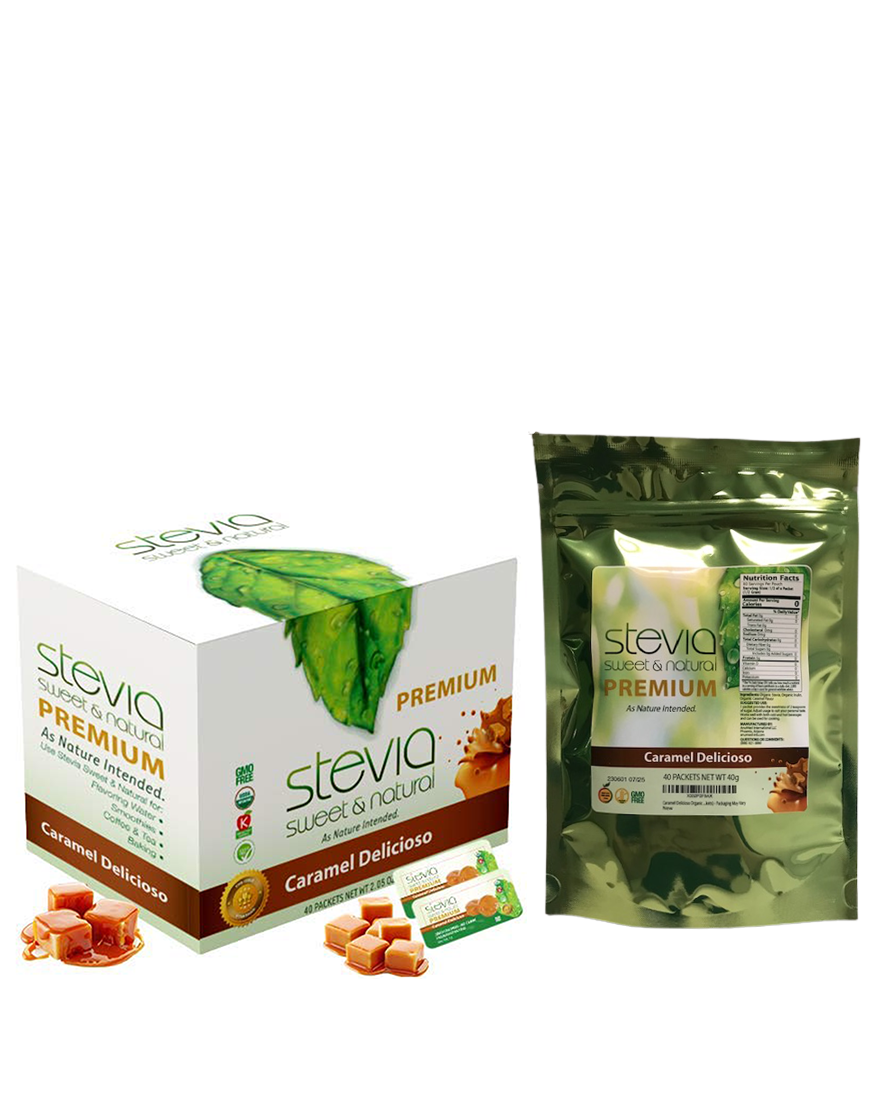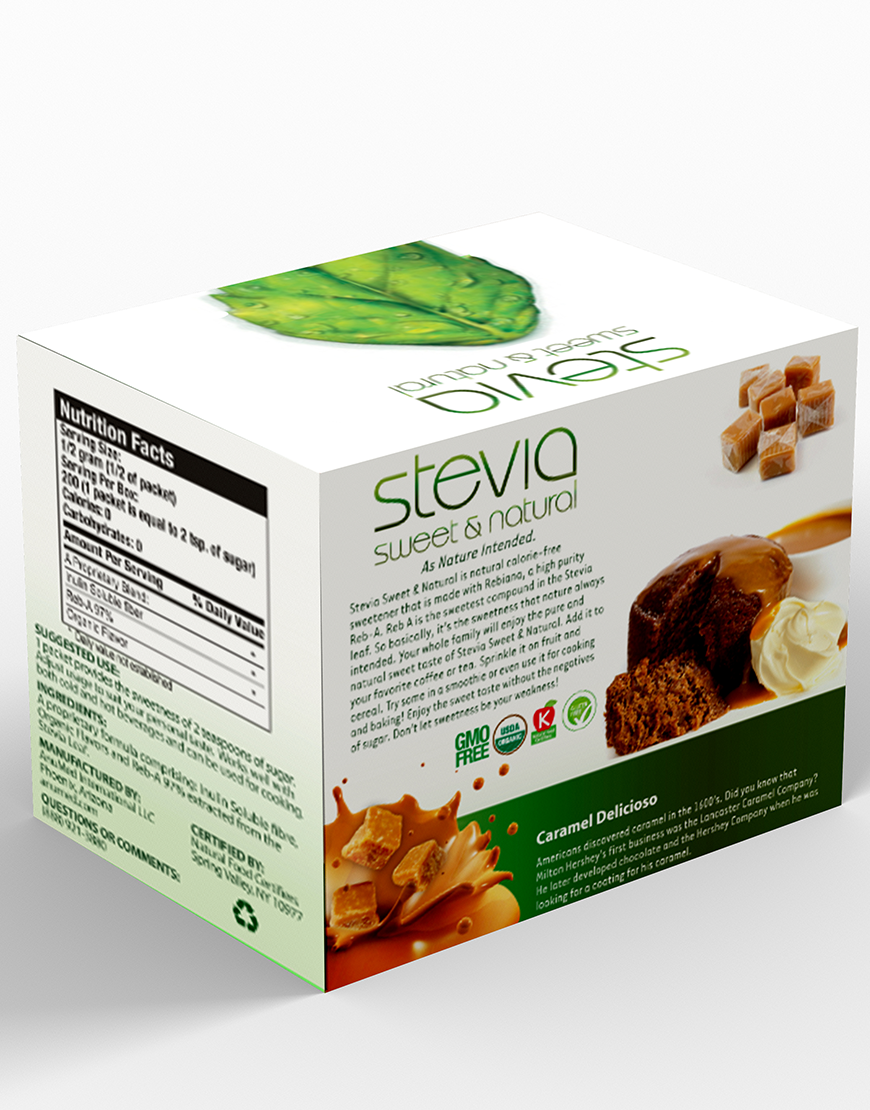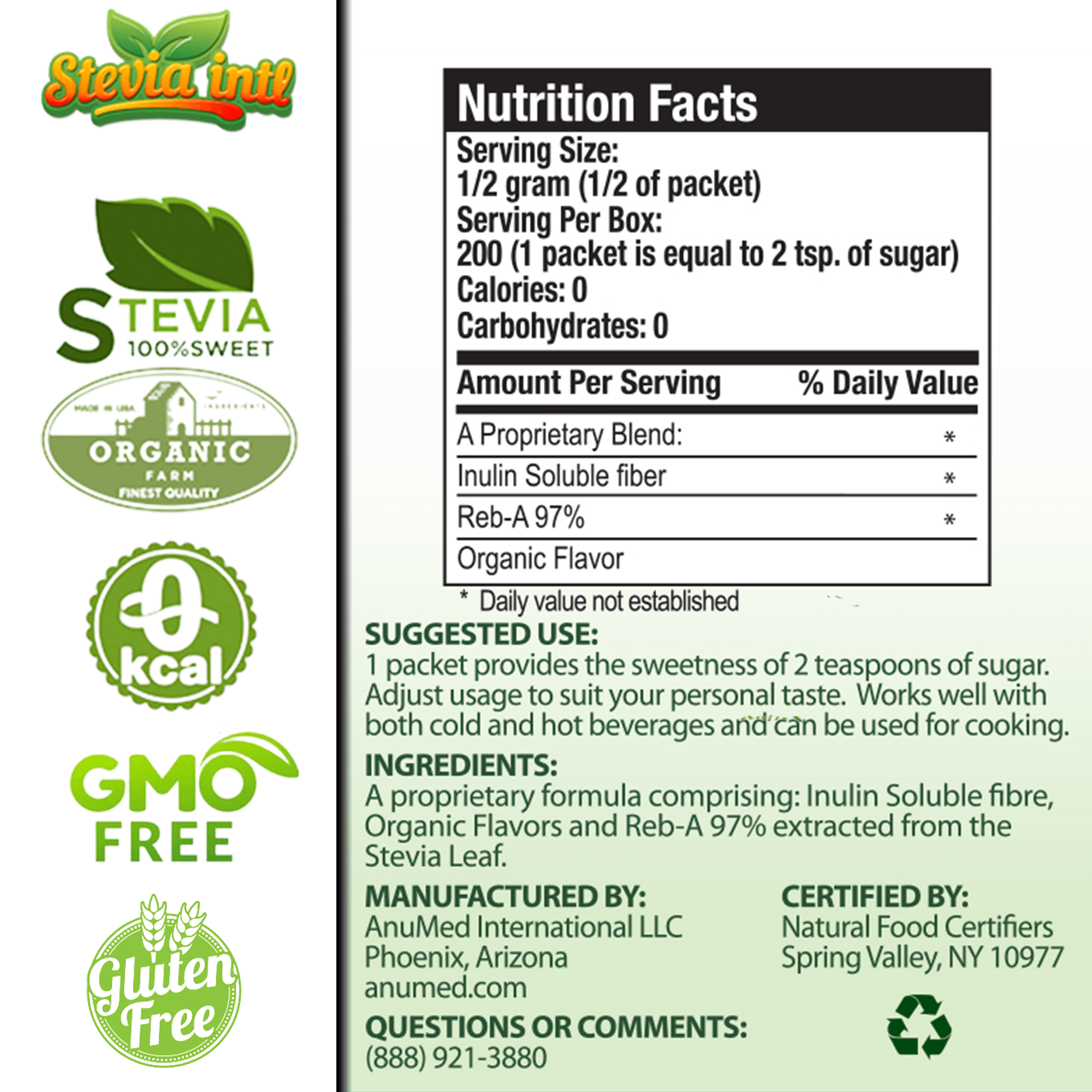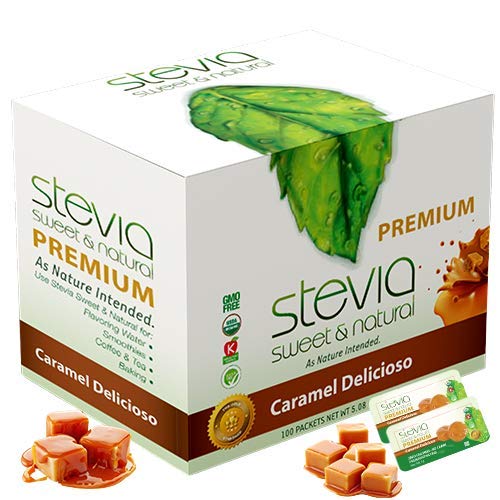 Enlarge photo
Caramel Delicioso Organic Caramel Stevia Powder in Packets. 100% Natural Sweetener, 100% Pure Extract, Zero Calorie, 0 Carbs, Diabetic & Keto Friendly ( Package May Vary )
Subscription • Save Up to 20%
Short description
All Natural, Non-GMO, Gluten-Free, 0 Carbs, 0 Kcal, Diabetic and Keto Friendly. Natural Sweet Stevia Extract Made in USA.
Share
What is stevia? 
Stevia is a natural sweetener derived from the leaves of the Stevia rebaudiana plant, which is native to South America, primarily found in regions like Paraguay and Brazil. The sweetness of stevia comes from certain compounds called steviol glycosides present in the leaves. These glycosides are responsible for the plant's intense sweet taste, which can be significantly sweeter than regular table sugar (sucrose), yet with minimal calories.
Stevia has gained popularity as a sugar substitute due to its potential health benefits. It doesn't significantly raise blood sugar levels, making it suitable for people with diabetes or those aiming to control their carbohydrate intake. Moreover, it doesn't contribute to tooth decay, which is a common concern associated with sugar consumption.
Stevia is available in various forms in the market, including:
Stevia Extract: This is a highly concentrated liquid or powdered form of the sweet compounds extracted from the stevia leaves. It's extremely sweet, so only a small amount is needed to achieve the desired level of sweetness.

Stevia-based Sweeteners: These are often a combination of stevia extract with other ingredients to mimic the texture and bulk of sugar. They can be used in cooking, baking, and beverages, making them a versatile alternative to sugar.

Dried Stevia Leaves: In some cultures, dried stevia leaves are used as a natural sweetener. They can be crushed or brewed to sweeten drinks or used in cooking.

Green Stevia Powder: This is a less processed form of stevia that retains some of the natural green color and may have a slightly different flavor profile compared to refined stevia extracts.
It's important to note that stevia products can have a slight aftertaste for some individuals, which is more pronounced in some brands or forms than others. The aftertaste can be reminiscent of licorice or bitterness. However, advancements in processing and product formulations have led to improved taste profiles in many stevia-based sweeteners. 
Stevia has been approved for use as a sweetener by many regulatory authorities around the world, including the U.S. Food and Drug Administration (FDA) and the European Food Safety Authority (EFSA), when used in moderation. As with any dietary choice, it's a good idea to consult with a healthcare professional if you have specific health concerns or questions about incorporating stevia into your diet. 
Exploring the Sweetness of Stevia: A Natural Sugar Substitute
Introduction
In a world where health-conscious choices are becoming increasingly important, finding alternatives to traditional sugar has become a priority for many. One such alternative is stevia, a natural sweetener derived from the leaves of the Stevia rebaudiana plant. Known for its sweetness without the calories, stevia has garnered attention as a suitable replacement for refined sugar in various applications. This article delves into the origins, benefits, uses, and potential considerations of stevia, shedding light on its role in promoting healthier eating habits.
Origins and Extraction
Stevia, scientifically known as Stevia rebaudiana, is a plant native to South America, primarily found in Paraguay and Brazil. The plant's leaves contain compounds called steviol glycosides, which are responsible for its remarkable sweetness. These glycosides are extracted through a careful process that involves steeping the leaves in water and then purifying the extract to isolate the sweet compounds. This resulting stevia extract is up to 200-300 times sweeter than traditional sucrose, making it a potent sweetening agent.
Health Benefits
Caloric Advantage: One of the most appealing aspects of stevia is its negligible caloric content. Unlike refined sugar, which is high in calories, stevia can provide sweetness without contributing to excessive calorie intake. This characteristic makes it an excellent option for individuals aiming to manage their weight or reduce their calorie consumption.

Blood Sugar Regulation: Stevia does not significantly impact blood sugar levels, making it a suitable choice for people with diabetes or those who are watching their blood sugar. Its glycemic index is effectively zero, meaning it does not cause the rapid spikes and crashes in blood sugar levels that are associated with regular sugar consumption.

Dental Health: Unlike sugar, stevia is not fermentable by oral bacteria, which means it is less likely to contribute to tooth decay and cavities. This makes stevia a valuable tool in maintaining good oral hygiene.
Versatile Uses
Stevia's versatility extends to various culinary and beverage applications, as it can be used in both hot and cold recipes. Some common uses include:
Beverages: Stevia can be added to teas, coffees, and homemade beverages as a sugar substitute. Its sweetening power means only a small amount is needed to achieve the desired sweetness.

Baking and Cooking: Stevia can be used in baking recipes, such as cakes, cookies, and muffins, though adjustments may be necessary due to its high sweetness. There are also pre-packaged blends that combine stevia with bulking agents to mimic the texture of sugar in baking.

Condiments and Sauces: It can be incorporated into salad dressings, sauces, and marinades to add sweetness without the added calories of traditional sugar.
Considerations
While stevia is generally recognized as safe by regulatory agencies such as the U.S. Food and Drug Administration (FDA), some individuals may experience a mild aftertaste when consuming it in large quantities. However, this aftertaste varies among brands and types of stevia products. Some people also prefer to use the whole, dried stevia leaves or green stevia powder, which are less processed forms of the sweetener.
Conclusion
Stevia offers a natural and calorie-free way to enjoy sweetness without compromising health goals. Its origins rooted in nature, coupled with its numerous health benefits, have made it a popular choice among those seeking to reduce their sugar intake. As a versatile sweetening agent suitable for various culinary applications, stevia continues to revolutionize the way we approach sweetness, offering a promising alternative to traditional sugar.